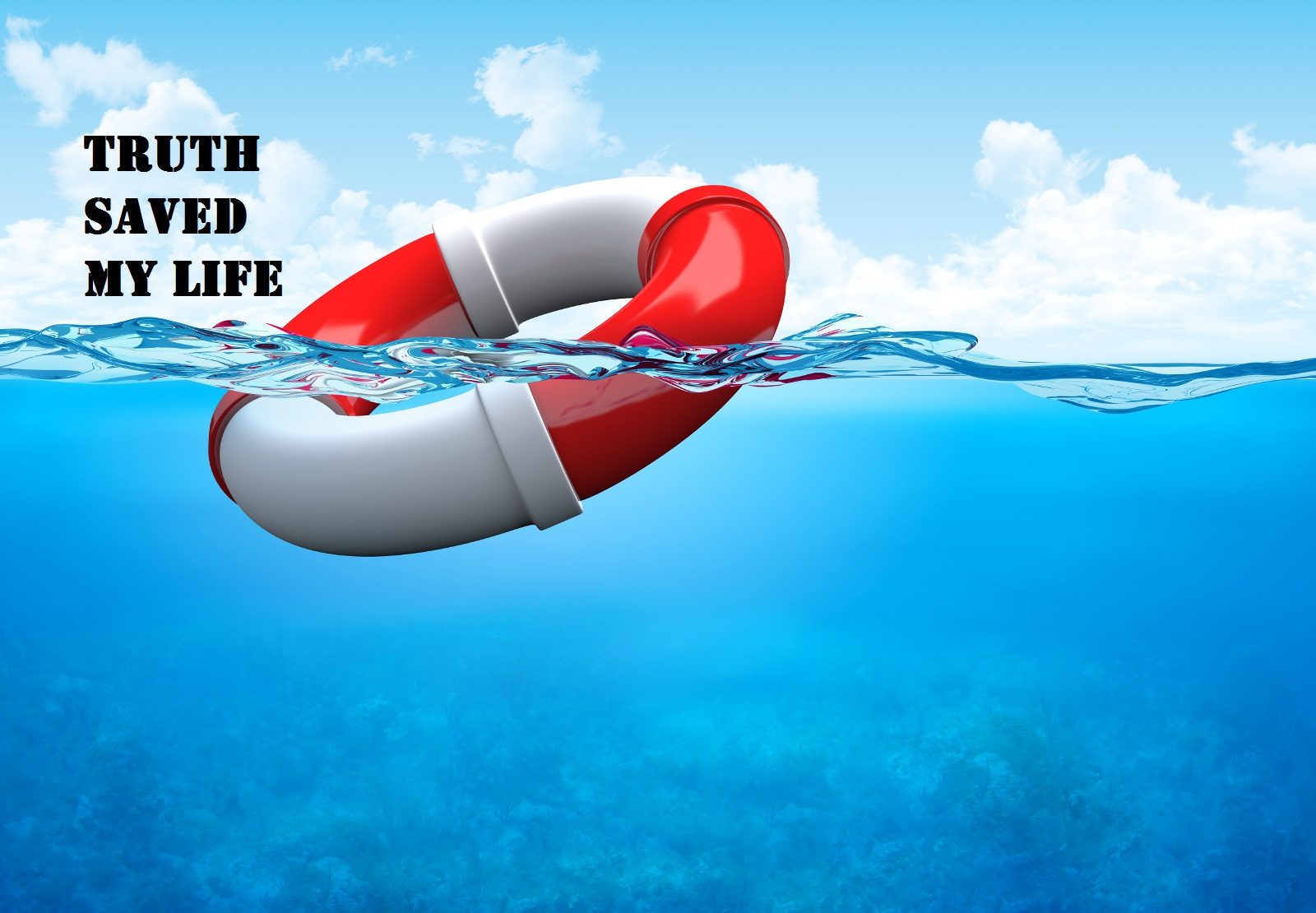 Truth saved my life...
May 10, 2015
John 16:12-15
"I still have many things to say to you, but you cannot bear them now. However, when He, the Spirit of truth, has come, He will guide you into all truth; for He will not speak on His own authority, but whatever He hears He will speak; and He will tell you things to come. He will glorify Me, for He will take of what is Mine and declare it to you. All things that the Father has are Mine. Therefore I said that He will take of Mine and declare it to you. (John 16:12-15 NKJV)
Jesus was not a word mincer. He did not spare the truth to save the flesh an uncomfortable experience. He was not sensitive to man's infraction of The Father's goodness, but he was focused upon the restoration of that relationship. When Jesus began his ministry it was a three year vortex of conflict, and setting straight, and forging a path made wholly of truth and sustained by the divine plan of a loving God.
Here in John 16 we see Jesus telling us that there are truths. He tells the disciples that some were not for revealing in his present time...but that The Holy Spirit...the Spirit of truth would reveal to us those things that are pertinent to our earthly voyage that would point us toward a heavenly destination. I don't know about you....but I needed an up...because all I knew was down....I needed a future...because I surely had a past....I needed a savior...because destruction had become my personal industry. I needed the truth...and the Truth saved my life.
Truth breaks chains
John 8:31-36
Then Jesus said to those Jews who believed Him, "If you abide in My word, you are My disciples indeed. And you shall know the truth, and the truth shall make you free." They answered Him, "We are Abraham's descendants, and have never been in bondage to anyone. How can You say, 'You will be made free'?" Jesus answered them, "Most assuredly, I say to you, whoever commits sin is a slave of sin. And a slave does not abide in the house forever, but a son abides forever. Therefore if the Son makes you free, you shall be free indeed. (John 8:31-36 NKJV)
A son abides ...has rights...In theory, the way this country was designed, a citizen, a native son, has inalienable rights. My children, my sons and daughters will always have my love and a place in my life that cannot be erased by the folly of man. They are free to move about my heart and will always have free access to me.
God sent Jesus, bearing truth...He sent the Holy Spirit....bearing truth....The truth has rooted in my life and has rooted in yours...for the express purpose of setting you free from the bondages of this life and gain for you free access to the Father of Lights! He has given us access to the very throne room of God.
A couple of weeks ago, I shared from Acts chapter 16 how Paul and Silas were simply worshipping in the midst of their prison experience. They had a midnight worship service right there in the cell and that Spirit of truth showed up. It sheared off prison doors and cast a light upon that place of bondage and set the captives free. Its been better than 2000 years and that thing still works!
Truth gives light
Psalms 25:4-5
Show me Your ways, O LORD; Teach me Your paths. Lead me in Your truth and teach me, For You are the God of my salvation; On You I wait all the day. (Psalms 25:4-5 NKJV)
Psalm 105:119 tells us that God's word is a lamp to our feet and a light to our path. I don't know about you, but I was stumbling around in the darkness. I tried to come up with my own forms of light. I tried to drink my way to illumination. I tried to money my way to some kind of light. I thought reputation would bring me brilliance. Intelligence and intellectual giftings would certainly brighten up my prospects...but no. It took a lamp that was permanently and faithfully affixed to the trail upon which I walked that would give me the steadfastness to follow God.
Isaiah tells us that when we wait upon the Lord...when we are fueled by His anointing and his leading, we are recharged...ignited with a fire that is unquenchable...unstoppable. We spend our lives trying to stoke a fire of our own. We try to keep things rolling. What liberation to have a light in our life that is there whether we are able or not. When we are weak, he is strong. My light was fading and in constant need of fuel. His Holy Spirit is an never ending, never depleting source of light that can bring us through even the darkest times. His light smells like Hope...it looks like confidence....and it performs like the noonday sun.
Truth brings life
I Peter 1:22-25
Since you have purified your souls in obeying the truth through the Spirit in sincere love of the brethren, love one another fervently with a pure heart, having been born again, not of corruptible seed but incorruptible, through the word of God which lives and abides forever, because "All flesh is as grass, And all the glory of man as the flower of the grass. The grass withers, And its flower falls away, But the word of the LORD endures forever." Now this is the word which by the gospel was preached to you. (I Peter 1:22-25 NKJV)
About six months before I was saved, I had a dream that I had died. All of the friends that I knew from my life came to this big funeral service for me. I have walked in this funeral home dozens of times in my life so it was familiar surroundings for me. At one end of this room, there is a closed container and flowers all around it. No one is crying or especially sad...no one is even paying the container much attention. The weird thing...is that I am walking around the room talking to these friends and laughing and reminiscing with them. I am attending my own funeral. And I am having one heck of a good time. At the end of this dream, it's like a door slams shut and all of a sudden...I am alone in the room....just the container....no flowers...no friends....no one else...just me....Then I awoke.
We hold on to this life with wide eyes and white knuckles. Satan has convinced us that this is it. But this is not it. If one of your greatest fears today is dying then you need to meet my Jesus. He is the Lord of Life. Today is Mother's Day. It is a day when we revere and celebrate those beautiful creatures of God who gave us our earthly life. What a day to repent, rededicate, reassert ourselves before God that he is the life giver. He is the one who has blown the breath into every nostril that has ever or ever will walk this earth.
I once walked amid the walking dead at my own funeral. But the truth....saved my life.