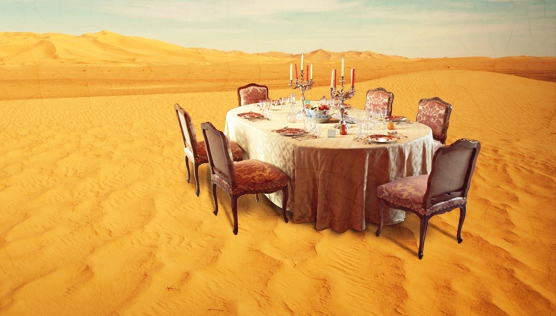 Table in the wilderness
June 29, 2014
Psalms 78:12-20 NKJV
Marvelous things He did in the sight of their fathers, In the land of Egypt, in the field of Zoan. He divided the sea and caused them to pass through; And He made the waters stand up like a heap. In the daytime also He led them with the cloud, And all the night with a light of fire. He split the rocks in the wilderness, And gave them drink in abundance like the depths. He also brought streams out of the rock, And caused waters to run down like rivers. But they sinned even more against Him By rebelling against the Most High in the wilderness. And they tested God in their heart By asking for the food of their fancy. Yes, they spoke against God: They said, "Can God prepare a table in the wilderness? Behold, He struck the rock, So that the waters gushed out, And the streams overflowed. Can He give bread also? Can He provide meat for His people?"
Believing His Word
Deuteronomy 7:9 NKJV
"Therefore know that the Lord your God, He is God, the faithful God who keeps covenant and mercy for a thousand generations with those who love Him and keep His commandments;
The whole walk starts with faith. Our world becomes incredibly small without God in it. Our existence becomes confined to parameter of our own gifts, abilities, and intellect. Without God, the supreme being...the creator and maker of all things...we find ourselves living within a box of our own design, never being able to achieve the unbelievable things we can accomplish with God.
Just as in human relationships, you cannot have faith in someone you do not know. In a marriage, over time, a wife begins to learn that she can trust her husband after years of track record. Even with the most elaborate of courting before marriage, nothing can determine the value and worth of that relationship like the commitment shown by both parties over the course of time.
Similarly, our faith grows as we watch and begin to understand God's amazing ways take root in our lives. As faith increases, we can begin to believe God for more and more. We also begin to understand with greater comprehension the heart of Father God and in so doing, we can determine the course of our prayers that we pray for things that honor God and not prayer that is amiss.
Trusting His Provision
Psalms 37:3-7 NKJV
Trust in the Lord , and do good; Dwell in the land, and feed on His faithfulness. Delight yourself also in the Lord , And He shall give you the desires of your heart. Commit your way to the Lord , Trust also in Him, And He shall bring it to pass. He shall bring forth your righteousness as the light, And your justice as the noonday. Rest in the Lord , and wait patiently for Him; Do not fret because of him who prospers in his way, Because of the man who brings wicked schemes to pass.
We tend to pray sometimes fully intending to "help" God along in the area of provision. Once we understand that God does not need our assistance, the sooner we begin to watch the miraculous manifest in each of our lives. God does not jump through our hoops, nor does he need our involvement except to trust in his provision, for that provision is perfect and lacking nothing.
Once we are in the place where we are feeding on His faithfulness, we no longer have need of imitation manna. God had a reason for not letting the Israelites store up the previous day's manna. When you get into "storing" God's blessing, you have arrived at a place of believing that you can become in control of the situation. If you have gained control...you do no longer trust His provision, but your ability to manage His provision.
Becoming stumbled by the prosperity of the world is a sure way to distancing yourself from a life of faith. The mindset becomes, "why does God bless heathens, but not me". What we must understand is that worldly gain has with it worldly consequences. What appears to you to be enormous blessing may in fact be loaded with the weight of this present age. And that is no blessing at all. Dick Mills spoke a word over us once that I have lived by since that day. It is the litmus test of living under God's blessing or eating out of the hand of worldliness....He spoke Proverbs 10:22...
It is the blessing of the LORD that makes rich; And He adds no sorrow to it. Wealth is a physical condition. Riches spills over into the spiritual. Chocolate is a flavor....but its value is determined by its richness.
Knowing His will
Romans 12:1-2 NKJV
I beseech you therefore, brethren, by the mercies of God, that you present your bodies a living sacrifice, holy, acceptable to God, which is your reasonable service. And do not be conformed to this world, but be transformed by the renewing of your mind, that you may prove what is that good and acceptable and perfect will of God.
This scripture should scream one thing to you. Knowing God's will involves obedience as a central ingredient. It is when we present ourselves sacrificially to God that we become in tune with His will. God's will for each of us is as unique as our fingerprints. The only way to identify that will is by proximity. The nearer you are to Go, the more closely you will hear his heart.
Paul calls this sacrificial lifestyle a "reasonable service". Putting the term reasonable in perspective...your reasonable service to your children is to feed them, love them, clothe them, care for their physical wellbeing, their spiritual life, and to educate them. Your reasonable service to your employer is to provide them with a job well done, to conduct yourself honestly, and to be there to earn your pay. Reasonable service to God is simply....everything. Without him, we have no life. We have no existence. There is NOTHING without him. A living sacrifice is bait on a hook, not a goldfish waiting for a shake of feed. Our responsibility toward our God puts us as living sacrifice...dying to self...that we may live more fully in Christ.
Conformation to the world is the trap that blocks us from transformation. We become like the world that God cannot change us into something else. We simply are more of the same...not unique according to heaven. We will become like what or who we serve. Once, renewed, we see and hear clearly that perfect will of God...with it, His peace, His power, His provision.