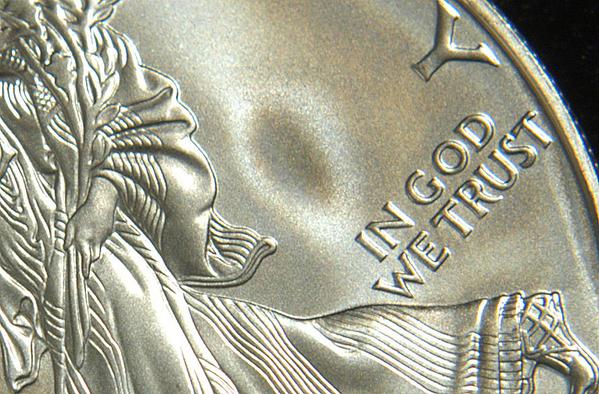 In God We Trust
August 3, 2014
II Timothy 3:16-17 NKJV
All Scripture is given by inspiration of God, and is profitable for doctrine, for reproof, for correction, for instruction in righteousness, that the man of God may be complete, thoroughly equipped for every good work.
Many of us try to ascend and ascribe in this life to be self-made men and women when nothing could be further from the truth.
Simply put, our time is in the hand of the Lord (Psalm 31:15) and our trust in Him should ever be a work in progress.
Saying we believe in God is simply a static statement until we also invest who we are and who we will be into God's care. Jesus' experience in the wilderness was a not simply a test of His endurance...it was the groundwork for his life and ministry. It was there that he placed his earthly existence in the hands of the Father, that his trust would no longer be in anything worldly, but in God Himself.
God is your provider...all else is facilitators.
Matthew 4:1-4 NKJV
Then Jesus was led up by the Spirit into the wilderness to be tempted by the devil. And when He had fasted forty days and forty nights, afterward He was hungry. Now when the tempter came to Him, he said, "If You are the Son of God, command that these stones become bread." But He answered and said, "It is written, 'Man shall not live by bread alone, but by every word that proceeds from the mouth of God.' "
It is easy to trust God when all your needs are met. In fact, one's faith can almost become a form of arrogance when the bills are paid and everyone is well. It is in the leanness of physical provision and the silence of answers from heaven that faith truly activates and becomes one's lifeline with the Father.
The act of fasting brings about physical hunger that also serves to place one's flesh upon the firing line for control. There are many types of fasting. We can fast from actual food and drink, and we can also do forms of spiritual fasting that can cause us to abstain from thought patterns and lifestyle habit. The purpose of fasting is not to torture the body, but to allow our spirit to come into alignment with God. Sometimes the only way to do that is to get the flesh out of the way.
Taking command of our flesh places us in position to receive directly from the hand of the Father, but keep in mind that doing so awakens temptation to become your own facilitator. Here, Satan in the desert tried to cause Jesus to not operate in the functionality of who he was, but to try to become his own provider. Jesus quickly responded that man does not live by bread alone. He basically said, "even if I do succeed in providing for my physical need, without the Father, my spirit starves. I TRUST GOD
Your validity is settled in the Father. Your worth should be proven to no man.
Matthew 4:5-7 NKJV
Then the devil took Him up into the holy city, set Him on the pinnacle of the temple, and said to Him, "If You are the Son of God, throw Yourself down. For it is written: 'He shall give His angels charge over you,' and, 'In their hands they shall bear you up, Lest you dash your foot against a stone.' " Jesus said to him, "It is written again, 'You shall not tempt the Lord your God.' "
Man is absolutely stellar at hanging his lip...you know...pouting. If we do not feel validated, we feel slighted...short changed. Our pride forever wants to exalt our flesh. The entitlement mentality did not begin with social service abuse, it began in a garden in the beginning when man decided that he could usurp God's place in his life.
Tempting God by trying to force our worth upon him is the fast track to shutting the doors and windows of heaven to your life. Now this is not God's desire, it is simply the bed we make and lie in if we choose not to place God first in our life, and to assume that our needs and our opinions are greater.
What we say to God is not nearly as important as what we hear from God.
Listening is a sign of a submitted heart.
Satan takes Jesus to the pinnacle of the temple and says to him..."Be your own man for crying out loud...this is what God wants! He's even said he's put angels all over the place to watch out for you...make God pony up!" To which Jesus replied...EVEN IF God said that he has my back in every situation...it is NOT and will NEVER be my place to give him a pop quiz to see if he's doing his job. I TRUST GOD
You are heir to an inheritance, not the recipient of benevolence.
Matthew 4:8-11 NKJV
Again, the devil took Him up on an exceedingly high mountain, and showed Him all the kingdoms of the world and their glory. And he said to Him, "All these things I will give You if You will fall down and worship me." Then Jesus said to him, "Away with you, Satan! For it is written, 'You shall worship the Lord your God, and Him only you shall serve.' " Then the devil left Him, and behold, angels came and ministered to Him.
Of all of the ancient cities upon the earth, Jerusalem continually is made to be the stumbling block. If you watch the news right now, this very thing is being seen. This whole Hamas things is not about land...it's about kingdoms. Here, Jesus had Satan lay before him the kingdoms of the world. All he has to do is bow his knee...and it's his.
Whenever I am tempted to bow my knee to the world to have what the world has, I always remember WHO the God of this world is...and it is NOT my God. If you receive from Satan's hand, you become Satan owned. He now controls your destiny. He sees to your future...your times are in HIS hand. This is NOT your kingdom and you cannot live there in any kind of peace.
Jesus stands at the threshold of world power. He is perched upon the highest mountain and overlooks all...all who called him "Joseph's boy"....all who called him "a Galilean"...that lowlife kid from Nazareth....that trouble making Jew. He has the very real choice of cashing in his chips for a crack at giving the world a piece of his mind. Tell me you wouldn't be tempted. His physical hunger coupled with emotional torment and need has him blindsided...Just then, a second wind whispers in his ear..." Jesus...you are not a beggar....you are a king". He tells Satan, "Take your cheap offers and your cheap little life and your cheap little world and hit the road...I am of the lineage of David!!! And David's God is my God and My Father has given me all of this!!! Who are you Satan??? You do not have to eat scraps under the table...because you have a place AT the table....and by the way....the table is yours.....I TRUST GOD