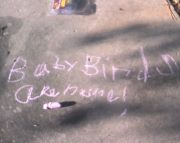 Pastor Larry's Note: Hi, this is a post I wrote in Facebook back in 2009. Abby is now 12 years old and still the same wonderful little pre-teen. The lessons I learned from this experience though, are timeless. Enjoy!
Eight years ago, God blessed Leslie and me in a most unusual way. For several years, we had our hearts set on having just one more child. In 1997, we found out that we were indeed expecting. Our doctor began the task of helping my wife with her expectant condition and excitement stirred in the Roques household once again as news of a new baby permeated the air. About four months into the pregnancy, my wife began to have difficulties and in short, we lost the baby, a boy. For several more years we just pretty much resigned ourselves to the fact that our years of having babies was over. While Leslie was well into her forties and I was crowding fifty, the most mysterious thing happened…Leslie discovered she was again expecting. With guarded hearts, we progressed to the medical advice end of the stick and our obstetrician saw no reason why we should in any way be fearful, but the good Christian doctor encouraged us that with God, "All things are possible". Nine months later, Leslie gave birth to our little caboose, Abigail.
Abigail is a most wonderfully unusual child. She is the aunt of two nieces and now a nephew and is actually younger than one of her nieces. She is outward, well spoken, and in general a delight to be around. Because Abby is now my last earthly assignment in the fathering department, I watch her in awe and listen to her with amazement. Recently, The Lord called my attention to begin to watch what she would write upon the sidewalk with her sidewalk chalk. Leslie and Abby were in the den about a month ago and just outside the window where Abby has her home school desk, there is a bush in the garden. In that bush, they discovered a small, but well formed bird's nest. Leslie explained to Abby that the eggs in that nest would hatch and there would be baby birdies soon. Abby waited and watched. Each day she would fly from her bed to watch the momma and poppa bird tending the eggs in the nest. Then the day came when the little birds hatched and Abby was so delighted. She shrieked and squealed and laughed and rejoiced wanting to know everything that was going on at the nest. She saw the momma and poppa bird bring food to the babies and she watched as they peeped their little heads just above the rim of the nest.
About a week after the little birds hatched, Leslie was in the den and heard a terrible noise outside the window…it was night time so she could really see nothing. The next morning, we discovered that the little baby birds were gone. The nest was disheveled and obviously disturbed by something. As best we could surmise something attacked the nest in the night and made prey of the little babies. Later, we had to figure a way to tell Abigail what had happened. Of course she cried. On the verge of tears, holding her little face in my hands, I told her that even bad things are a part of life. When disappointment, tragedy, or even joy comes our way, we must always look to God who is the giver of life. And we know that God causes all things to work together for good to those who love God, to those who are called according to His purpose. (Romans 8:28) Later that day, I walked outside into the back yard. I looked down and there I saw the writings of an expectant eight year old heart. In chalk, Abby wrote "Baby Birdies are Here!" I remembered how Leslie and I were so devastated on that fateful day in 1997 when our baby was taken from us. I felt my heart breaking for Abby, but then I heard the Lord say do not weep or be dismayed, for I the Lord restored joy to you when your heart was broken, her name is Abigail, which means "her fathers joy". And I will do a new thing in her even through this. Later that day, I heard her laugh…and I knew my God had kept his word.